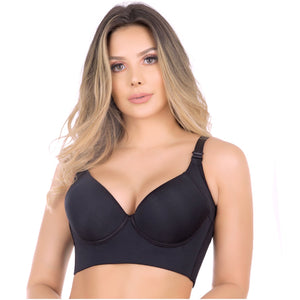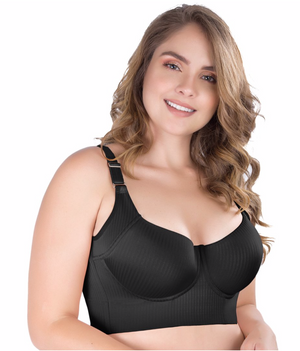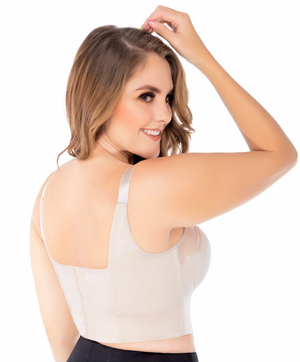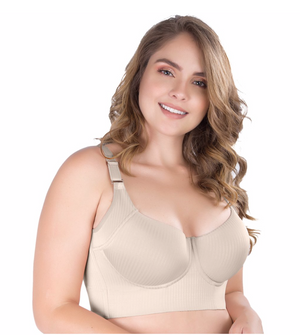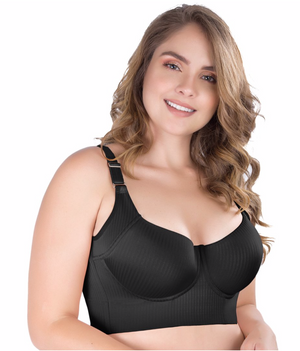 DEEP CUP BRA 8542 (34DD-44DDD)
With a dash of style, UPLady has designed amazing products with all the features clients love. The soft-touch of ultimate fabrics that give the body all the comfort, and safety that it needs. Our products are created to meet all customers' needs and of course, they will be the ideal key to help you improve your business' goals.
A full cup design that provides better coverage and lifts breasts.
Made of top-notch fabrics that offer the best shaping experience.
Full-back coverage for added support and relief.
This compression bra helps to improve posture.
Daily use.
Adjustable wide straps.
High compression.
Back hook-and-eye fastening.
**IF YOU HAVE QUESTIONS ABOUT SIZING SEND A MESSAGE AND WAIT FOR A RESPONSE BEFORE ORDERING
***IF YOU ARE A DDD, DD YOU CAN SIZE DOWN ONE FOR A TIGHTER FIT (EXAMPLE 36DDD can size down to 36DD comfortably for a tighter fit)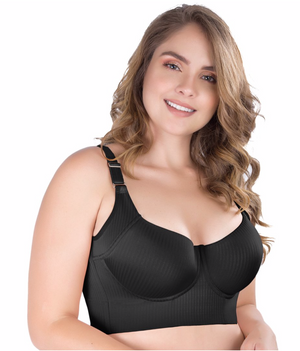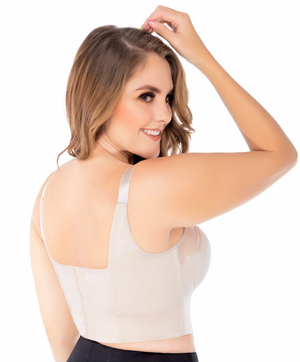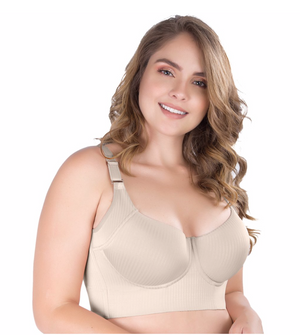 Customer Reviews
Write a Review
Ask a Question
Filter Reviews:
breast
place
40DDD
cleavage
investment
55356
bra size
Hides
confidence
truth
05/04/2021
Crystal L.

United States
Love it
Very comfortable and supportive
04/29/2021
Sham S.

United States
EH it's ok
Pros it does hold in the bra fat so no back bulge. Cons it's hard to get on solo unless you turn it backwards and then turn it correctly. The straps wear fast. Garment could have been made better, seems to wear quickly.
04/19/2021
Theresa P.

United States
It's good
It's a good bra
04/17/2021
Dorothy H.

United States
I'm in love
I love this bra.Definitely a good investment.
04/11/2021
Kenya G.

United States
Deep cup bra
I love how well it fits my breast, so I ordered 2 more. Hoping for another great sale.
04/04/2021
Quisha M.

United States
It's okay
Back does hide bra rolls! Front of bar bulges and does not fully support breast
04/02/2021
Ashlyn T.

United States
Coverage
The coverage as far as the back fat was amazing however I ordered my bra size and my breast keeps falling over the top!
04/02/2021
Tyanna M.

United States
Best bra ever
Fit perfect. Keeps back and underarm fat in place. Love love love this bra. My new favorite
03/29/2021
Ebony P.

United States
Deep cut bra
I love it fit so nice
03/26/2021
Sandretta S.

United States
Great product/Wrong size
I went off most of the reviews when it came to sizing. Some said size down, most said true to size. I ordered my normal size & it's too big. I can tell if it was my size, it'd be perfect. Despite sizing, it covered my back & side boob fat and had good support. I'll definitely order again in the future.
03/24/2021
Armianna D.

United States
Worth Every Penny!
Gorgeous bra! And great customer service. I'd clean out their whole inventory if I could.!!
03/21/2021
Nakeisha C.

United States
This item is very comfortable. I wore it all day. I feel it's perfect for when you want to go out and not all day wear.
03/19/2021
Britney

United States
Deep cup bra
Love my bra will be purchasing more soon!
03/16/2021
Leneequa L.

United States
Love the bra but it is slightly big
My overall experience was good
03/13/2021
Azuma F.

United States
Deep Cup Bra
Love the Bra! Will be purchasing another one.
03/03/2021
Mrs L.

United States
Great!!!
I'm in love with this product it's soooo worth it every single penny! Ladies don't mess up your outfit purchase your undergarments don't mess up that expensive outfit